Monday, April 30, 2007
Posted by

kinchina
at 6:51 PM
1 comment: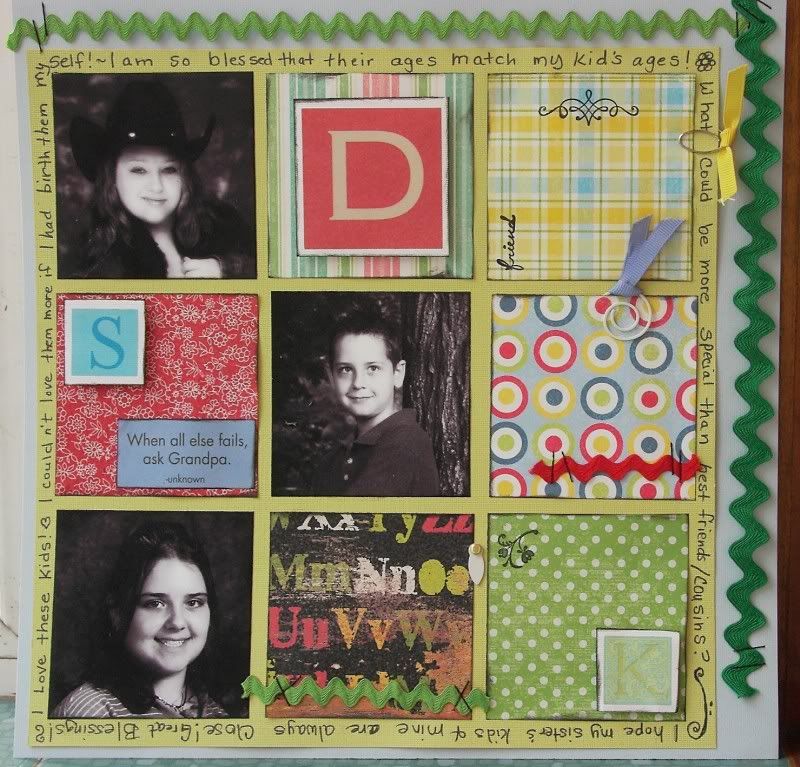 Posted by

kinchina
at 6:49 PM
No comments:

I am posting the directions for the Flip books. I found them on the 2 peas site from Fuggles. She closes hers a little different. Good Luck.

(They are tons of fun to make.)


From Fuggles post:

I'll try to be more specific for any peas that would like to try it. Here is a list of what you'll need: 3 pieces of cardstock cut to 6x12 1 piece of patterned paper or cardstock cut to 6 x 11 5 pieces of patterned paper approx 5 1/2 x 5 1/2 8 pieces of patterned paper cut approx 5 1/2 x 2 1/2 2 pieces of patterned paper or cardstock cut to 6 x 1/2" 2 pieces of ribbon approx. 18" 4 eyelets Score the cardstock at 3" and 9". Fold and use a popcicle stick to flatten the folds. Glue the 3" flaps together so all 3 pieces of cardstock are attached to each other. Adhere your patterned paper to the book. Punch holes in the 6 x 1/2" piece of cardstock/paper about 1/2" in apart in the middle of the paper. Thread your ribbon through the holes. Adhere these papers to the ends of the 6x11 paper. This is the part that wraps around the closed book. Close up the book and lay it face down. Line up the center of that 6x11 piece of paper with the center of the back of the book and adhere. Then wrap the corners around the front of the book and use your popcicle stick to flatten the folds. Don't adhere the flaps. That's it.
Posted by

kinchina
at 10:55 AM
1 comment:

Sunday, April 29, 2007
Posted by

kinchina
at 7:21 AM
3 comments:

Saturday, April 28, 2007
Posted by

kinchina
at 9:17 AM
No comments:

I am blogging. Actually I have been blogging about our stay in China (6 months) and our adventure of getting settled again after our move back. We are settled and loving our new home and town. I thought it would be fun to start a scrapping blog and share some of the scrapping adventures I am having now.
I have finally unpacked most of my scrap stuff. I am in the process of setting up my desk. I had a scrap room in our old house and here I have a scrap corner. Do any of you have any tips on how to keep your cat off your work? My old room had a door, so the door was closed or I was in the room to protect my stuff. Here it is in the open and my cat has decided it is his favorite napping place. He has long black fur that is getting everywhere at the moment. He actually nipped me where I moved him last night. I love my cat but I seriously thought about leaving him out for the coyotes last night. (Not really, I thought it was a pretty good threat but he did not seem phased.)
Here are some snapshots of my new corner and some shots of some of my work.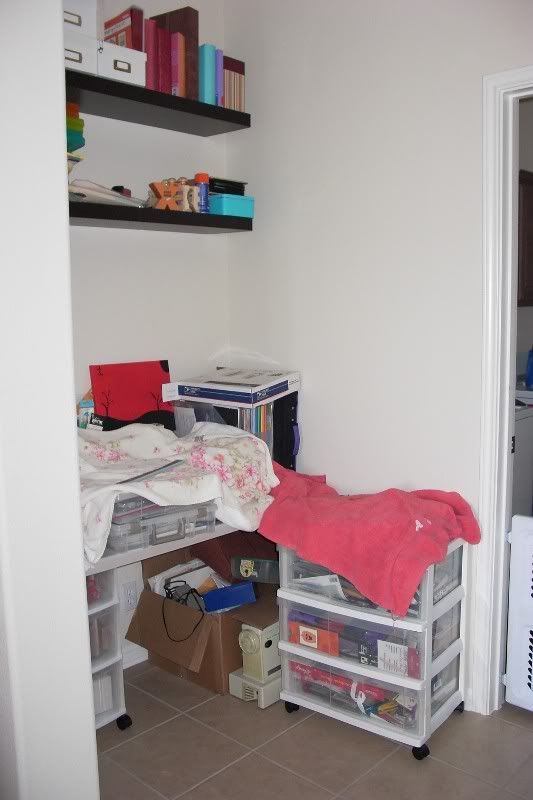 Posted by

kinchina
at 8:03 AM
No comments: